7 Reasons Playsets Make a Great Holiday Gift
This holiday season, you have a chance to make the year memorable for all the right reasons by giving your kids the gift of a new backyard playset. While many of us can look back fondly on our childhood home's old swingset, now is your opportunity to help your kids create those same lasting memories. However, with so many playset options to choose from nowadays, shopping for a playset can be a confusing process. To help make your holiday shopping a bit easier, this complete holiday gift guide for playsets will review some reasons swingsets make a great gift, what type of playset you should buy, what kinds of accessories you can get for your playset and a couple of other fun outdoor play gift ideas. If you're looking for a holiday gift your kids will love for years, keep reading to find out what makes playsets so unique.
Why Are Playsets an Ideal Gift?
There are many advantages to having a playset or swingset installed in your yard this holiday season. Here are the seven main reasons a playset makes a great gift.
1. Playsets Come With Many Health Benefits
A playset can help keep kids both physically and mentally fit by encouraging them to get outside and be active.
Research
shows that kids who get regular exercise have better fitness levels, stronger muscles and bones and lower chances of developing diabetes or other chronic health conditions. Playing on a playset can also improve kids' agility, hand-eye coordination,
motor skill development
and
ability to concentrate
, which may help them perform better in school.
Being outside in nature can also elevate mood and boost kids' mental health.
More and more evidence
is pointing toward the psychological benefits spending time in nature can offer kids, such as reduced stress and increased creativity. Though kids tend to spend more time indoors as the weather gets colder, a brand-new playset for the holidays will get them up off the couch and moving in the winter. Indeed, there's a whole separate set of
benefits for kids playing on playsets during the winter
— make sure they bundle up!
2. Playsets Are Timeless
How many times have you purchased the must-have holiday toy of the year, only for it to end up forgotten a few months later? Instead of getting caught up in here-today, gone-tomorrow trends, invest in a holiday gift your kids will treasure and enjoy for years to come. Unlike so many other toy fads, swingsets and playsets never go out of style, offering the same amount of adventure and fun each day, year after year. If your playset starts losing its luster after a while, you can quickly revamp and refresh it by adding accessories. A swingset or playset can evolve and change with the times, making it the gift that keeps on giving. Thanks to a playset's transformative qualities, it's a holiday gift you can rely on to outlast the latest trends.
3. A Playset Can Inspire Friendships
With a new playset for the holidays, you can give your child the gift of friendship. Though kids get a lot of online interaction these days, there's nothing quite like the genuine connection of playing on the swingset together. You can boost your kid's ability to establish lasting friendships by providing an at-home play area for them to hang out with their friends. Whenever kids are planning a playdate, they always want to go to the house with a swingset or playset. By increasing the kid-appeal of your house, having a playset will make your backyard the life of the party and help your kids make new friends or deepen existing friendships.
4. Playsets Can Teach Kids How to Get Along With Others
A playset offers kids the opportunity to learn the value of teamwork and how to share. Because kids usually play games with their friends on playsets and swingsets, getting your kid a playset can teach them crucial social skills. To win a game, kids have to cooperate, which demonstrates the importance of working with others to achieve a common goal — a fundamental lesson that will stick with them for the rest of their lives. Along with social skills like teamwork, a swingset can also teach kids the value of taking turns. Waiting for their chance to swing or slide down the slide will instill kids with patience and a sense of fairness.
5. A Playset Can Be a Treat for Parents, Too
Putting a playset in the backyard can save you time from driving to the nearest playground or park by giving your kid access to a fun swingset right outside their back door. With the convenience of having a playset on your property, you can keep an eye on the kids through the window while prepping dinner in the kitchen, listening to music or a podcast or watching your favorite show. Whether you choose to get some housework done or finally relax and unwind a bit while your kids play, you can have peace of mind that they're only a few feet away. A playset can also make parents' lives easier by tiring kids out during the day. Swinging, climbing, jumping, crawling and running on and around the playset requires a lot of energy, which means that after a long day of playing in the yard, your kid will be exhausted by bedtime. This holiday season, give a gift that benefits the whole family.
6. Playsets Can Build Community
Swingsets and playsets have a natural way of
bringing people together
. Once you have a playset in your backyard, you'll want to invite relatives, friends and neighbors over more often to share in enjoying your kids' new toy.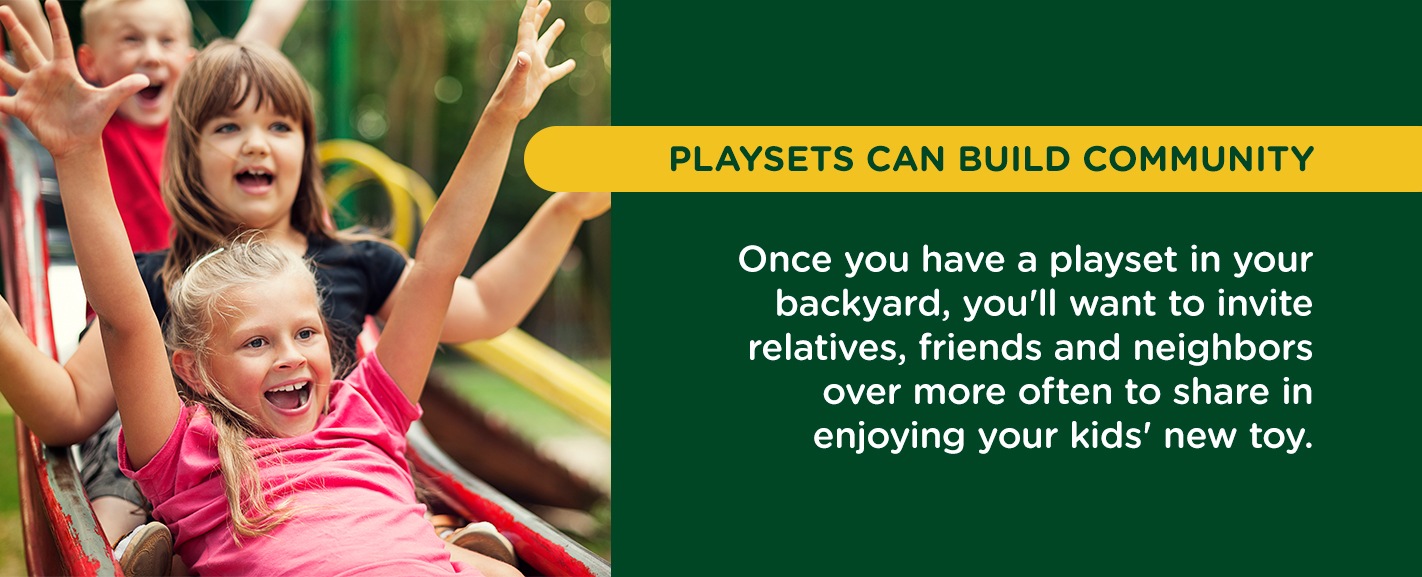 Because playsets' design promotes group fun, your swingset or playset will be a gift to your community as well as your kids. The new playset can act as the glue among your neighbors by serving as a focal point for cookouts and other warm-weather get-togethers.
7. A Playset Is a Creative Gift
Nowadays, you could buy your kids so many video games, electronics and other remote-controlled toys, but why not go with something different? Think outside the box — and the house — and get your kid a custom playset no one else in their class will have. When your kid walks outside to see the size, color and imagination of this unique present, their face will immediately light up with excitement.
Why Choose a Wooden Playset From Superior Play Systems?
Now that you know the benefits of gifting your kid a playset, you might be wondering what kind to get. When choosing a playset for your yard, safety is paramount. In addition to a high-quality installation and whether the playset is age-appropriate, the materials involved in its construction and components are crucial for ensuring safe playing. Of the most popular playset materials,
wood is one of the safest
because it won't rust or become scalding hot in the summer like metal. In particular, cedar is ideal for playsets because it is durable and won't swell, shrink or warp like other types of woods. Cedar is especially excellent because it
stands up to the elements even without applying a finish
. If you're looking for a high-quality wooden playset, Superior Play Systems has a
wide variety of products
for you to choose from. The wooden playsets from Superior Play Systems promote a child's physical, intellectual and emotional development while protecting their safety. Thanks to the top priority Superior Play Systems puts on safety, we've earned the title of The Most Trusted Name in Play
®
. By selling only playsets constructed from solid cedar, Superior Play Systems defines safety and quality in the playset and swingset industry. When you work with Superior Play Systems, you'll receive knowledgeable, fast and personable customer service, from the design phase to playset installation. As the largest outdoor residential recreation retailer, Superior Play Systems offers you a broad selection of innovative playset products paired with the industry's best warranties. If you'd prefer a custom playset, Superior Play Systems is happy to collaborate with you on a design. You'll get to work alongside a designer to create the perfect playset for your kids — you can even take advantage of the huge Superior Play Systems showrooms available for test play. After you've finalized your design, our local installation services will ensure a safe, professional installation. The high-quality products and personal attention you'll get from Superior Play Systems are unmatched in the industry. When you come to Superior Play Systems, you can be confident you'll get what you want, and all your playset problems will get solved in a stress-free environment. Feel free to shop the rest, then come see the best.
Best Accessories to Go With Your New Playset
The beauty of giving a playset as a gift this holiday season is that other relatives can get
accessories to go along with the playset
. And a playset or swingset can be the gift that keeps on giving. Once your kids have a playset in the backyard, you can buy playset add-ons for future holidays and birthdays. Whether you plan on expanding your kids' playset sooner or later, check out this accessory holiday gift guide for swingsets and playsets.
Other Fun Outdoor Play Gift Ideas
In addition to swingsets, playsets and their limitless accessories, other fun outdoor play items make exciting holiday gifts. Specifically, getting your kid a trampoline or basketball hoop is a memorable way to make their holiday season special. Let's look at the benefits of trampolines and basketball nets below.
Trampolines
What kid doesn't well up with joy as soon as they start bouncing on a trampoline? Give your kids the gift of wider smiles by getting them a trampoline for the backyard. Much like a playset, a trampoline encourages active play and social interaction with other kids. A trampoline is always a draw for kids, so owning a trampoline will make your house a popular choice for playdates. And the thought of jumping on a trampoline will be enough to lure your kids out into the fresh air to get exercise while having some fun. For safety purposes, all the
trampolines available from Superior Play Systems
come with padding over metal components and built-in nets that fully encompass the trampoline. Thanks to a secure net, trampolines from Superior Play Sytems are safe for all ages.
Basketball Hoops
Basketball is one of America's favorite sports for a reason — it's so much fun to play! And it's never too early to teach your kids how to play basketball. By getting your kid a basketball hoop for the holidays, you could spark a lifelong passion for the sport. When ordering a
basketball hoop from Superior Play Systems
, you've got options. You could either go with a traditional in-ground basketball hoop or a wall-mount basketball hoop. An in-ground hoop is durable, weather-resistant and easily adjustable to go higher or lower, depending on the players' age and size. On the other hand, a wall-mount basketball hoop offers the convenience of taking up less space, with the same ability to adjust net height from the ground by using a crank handle.
Contact Superior Play Systems to Find Your Perfect Playset
If you're looking for a holiday gift that will stand out,
browse the wooden playsets for sale from Superior Play Systems
. Choose from our large selection of standard playset structures, or personalize your playset with a custom design. To see a swingset or playset up close before you buy,
locate the Superior Play Systems showroom nearest you
for a test play. Superior Play Systems also offers regular sales, so don't forget to
check out our current specials
before making your playset purchase. For more information about how you can get the perfect gift for your kids this holiday,
contact Superior Play Systems
today — our friendly customer service team would love to answer all your playset questions.